News, Events & More
It's not too early to think about the All Academies Military Ball!
Posted: 2/3/2019
WISNAPA parents are hosting this year's All Academies Military Ball.  More details will follow.  In the meantime, think about what you can do to help in any way by sharing your time, talent and/or treasure!  Please contact Sybille Tasker – sibtask@aol.com or 414.731.9504.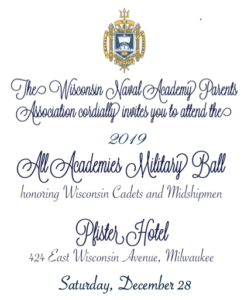 Second semester under way. Make way for the Dark Ages!
Posted: 12/26/2018
The Brigade is well into our Firsties' final semester.  Plans for summer assignments are in the works, Plebes are declaring majors and our Midshipmen will be planning for the 2019-20 semester before we know it!
Best wishes to all for a happy, healthy and peace-filled 2019.