Congratulations graduates!
Posted: 6/3/2018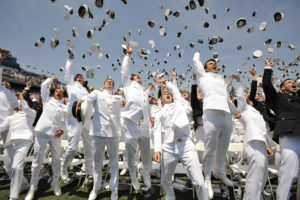 Yes, graduation and commissioning day — and week — were memorable.  From awards ceremonies to various musical performances to the Marine Silent Drill Team to the Blue Angels to…. everyone was in top form.  Now many of the new Ensigns and 2nd Lieutenants are on basket leave, preparing for their next assignment — Quantico, Pensacola, the many SWO sites, continued higher education, and more.  Fair winds and following seas to all of them.
«
Welcome (almost) Class of 2022!